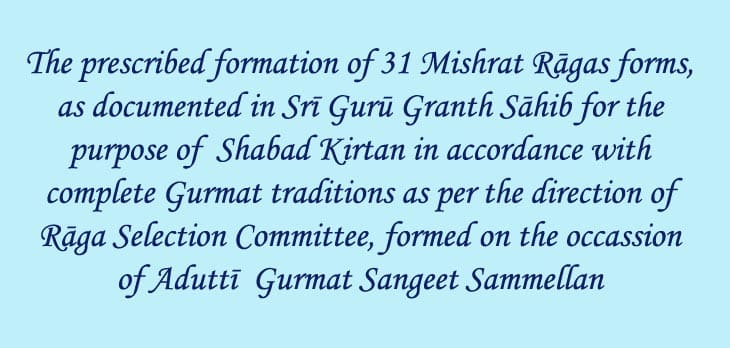 25. Mârû Kâfî (Srî Gurû Granth Sâhib, p. 1014)
Âroh : Sâ Gâ Mâ Pâ, Pâ Mâ Pâ, Dhâ Mâ Pâ, Dhâ Sâ Nee Sâ
Avroh : Sâ Nee Dhâ Pâ, Dhâ Pâ Gâ Re, Pâ Gâ Re Nee Sâ
Swar : Both Gandhâr, both Madhyam, both Nishâd. The rest of the notes are shudha.
Thât : Kâfî
Jâtî : Sampûran-Sampûran
Time : First quarter of the night
Vâdî : Pancham (Pâ)
Samvâdî : Sharaz (Sâ)
Main swar : Sâ Gâ Mâ Pâ, Pâ Dhâ Pâ Gâ Mâ Pâ Mâ, Pâ Mâ Pâ, Nee Dhâ Pâ, Mâ Pâ Gâ Re Sâ.
Kirtankaar : Bibi Manjeet Kaur Patiala