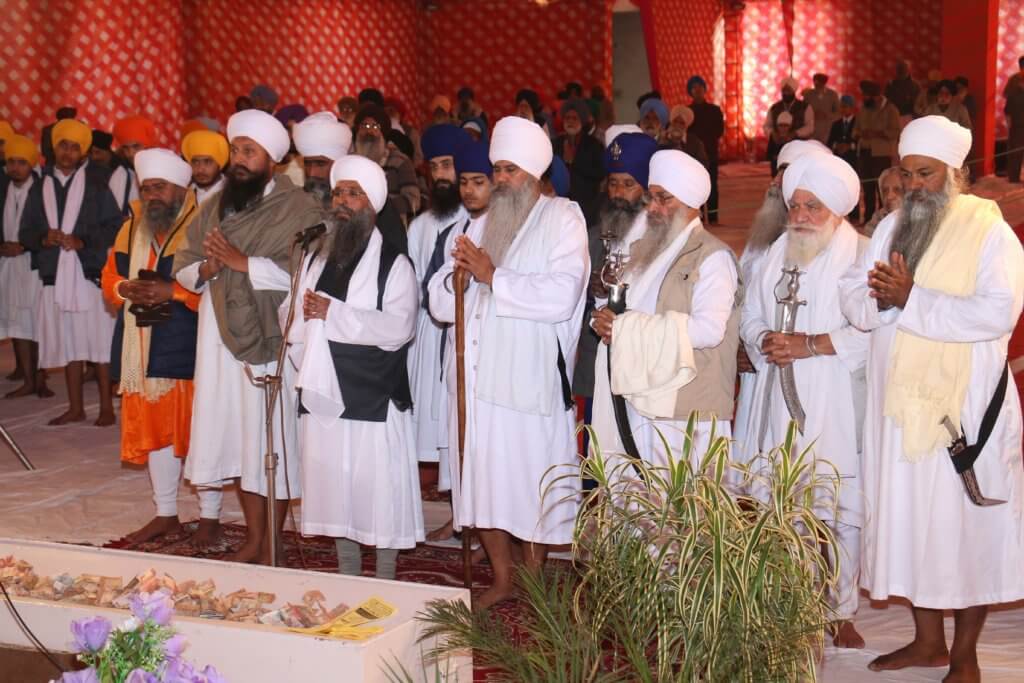 In continuation to the propagation of Gurmat Sangeet among the masses initiated by the pious soul Sant Baba Sucha Singh ji, the 26th Adutti Gurmat Sangeet Samellan organized at Jawaddi Taksaal from December 08 to December 10, 2017 by Sant Baba Amir Singh ji (Mukhi, Jawaddi  Taksaal) concluded here tonight with a new milestone in the history of Gurmat Sangeet Samellans.
In this mega event of Gurmat Sangeet Samellan Giani Gurbachan Singh ji, Jathedar Sri Akal Takhat Sahib; Giani Raghubir Singh ji, Jathedar Takhat Sri Kesh Garh Sahib; Giani Harpreet Singh ji, Jathedar Takhat Sri Damdama Sahib and Singh Sahib Giani Sukhwinder Singh ji, Granthi Sri Darbar Sahib, Amritsar graced the occasion. In this 3-day Raag Darbar, about 60 raagi jathas performed gurbani kirtan of Bani of Guru Teg Bahadur Sahib ji. Among them the prominent were Bhai Satvinder Singh ji (Delhi Wale), Bhai Harjot Singh ji Jakhmi, Bhai Baljeet Singh ji (Delhi), Bhai Gurdev Singh ji (Australia Wale), Bhai Kultar Singh ji (Delhi), Bhai Sarabjeet Singh ji (Durg Wale), Bhai Kuldeep Singh ji (Hajuri Raagi Sri Darbar Sahib), Prof. Rawel Singh ji (Amritsar) and Dr. Navedita Singh ji (Patiala).
On one hand well-known raagi jathas performed, on the other hand many revered saints like Sant Baba Harnam Singh ji (Mukhi Damdami Taksaal), Sant Baba Darshan Singh ji (Gumtala wale), Sant Baba Budh Singh ji (Nikke Ghuman Wale), Sant Baba Narinder Singh ji (Gurdwara Langar Sahib, Sri Hazoor Sahib), Baba Sawarnjeet Singh ji (Tarna Dal), other Nihang Singh Jathas, and many other saints attended the Samellan and praised Sant Baba Amir Singh ji and the work done by Jawaddi Taksaal in ragas. The students who are getting education/ training here at Gur Shabad Sangeet Academy, Jawaddi Taksaal, too performed Tabla Solo and Solo of String Instruments at their respective turns. Thousands of the Sikh Sangat attended this three-day Samellan. At the closing ceremony, Sant Baba Amir Singh ji thanked one and all. The interesting thing was that Guru Ka Langar was served for all the three days without any break.