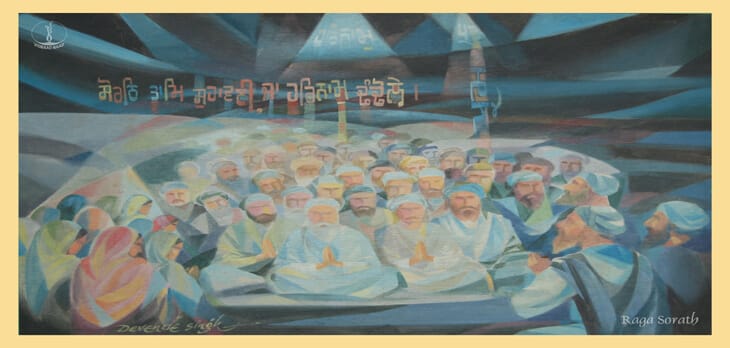 Raag Sorath  If you are interested in Hindi Notation of Raag Sorth: Click here

Baani in Sorath raag is generally known by heart to most of the gursikhs. It is a very simple and sweet raag but it will be appealing only when the soul will seek the Lord's Name.
Sorath taam suhaavanee jaa har naam dhandolae | Gur purakh manaavai aapanaa guramatee har har bolae |
By singing the glorious praises of the Lord's name, lifelessness does not come.One will have an immaculate reputation in this world as well as the other world.
Sorath so ras peejeeai kabehoo n feekaa hoe | Naanak raam naam gun gaaeeahi darageh niramal soe |5|
Aroh : Sa Re, Ma Pa, Nee Saˆˆ
Avroh : Saˆˆ Reˆˆ Nee Dha, Ma Pa Dha Ma GaRe, Nee Sa
Sur : Both Nishad, 'Ga' & 'Dha' are forbidden in ascending scale, rest. of the notes are Sharp. The use of 'Ga' in ascending scale is only by 'meand'.
Thaat : Khmaahj
Jaati : Aurav – Sampooran
Time : Second quarter of the night
Vadi : Rishab (Re)
Samvadi : Dhaiwat (Dha)
Main sur : Sa Re, Ma Pa, Nee Dha, Pa, Dha Ma GaRe, Nee Sa
Raag Sorath Mehalaa 5 || (GGS-609-10)            Kirtan Kaar: Bhai Sarabjeet Singh Rangila
Gur pooraa bhaetiou vadabhaagee manehi bhaeiaa paragaasaa |koe n pahuchanehaaraa doojaa apunae saahib kaa bharavaasaa |1|apunae satigur kai balihaarai |aagai sukh paachhai sukh sehajaa ghar aanand hamaarai | rahaao |antarajaamee karanaihaaraa soee khasam hamaaraa |nirabho bheae gur charanee laagae eik raam naam aadhaaraa |2|safal darasan akaal moorat prabh hai bhee hovanehaaraa |kanth lagaae apunae jan raakhae apunee preet piaaraa |3|vadee vadiaaee acharaj sobhaa kaaraj aaeiaa raasae |naanak ko gur pooraa bhaettiou sagalae dookh binaasae |4|5|
Sorath Mehalaa 5|| (GSS-619-20)            Kirtan Kaar: Bhai Amarjeet Singh Taan
Hamaree ganat n ganeeaa kaaee apanaa birad pachhaan |haath daee raakhae kar apunae sadaa sadaa rang maan |1|saachaa saahib sad miharavaan |bandh paaeiaa maerai satigur poorai hoee sarab kaliaan | rahaao |jeeo paae pind jin saajiaa ditaa painan khaan |apanae daas kee aap paij raakhee naanak sad kurabaan |2|16|44|