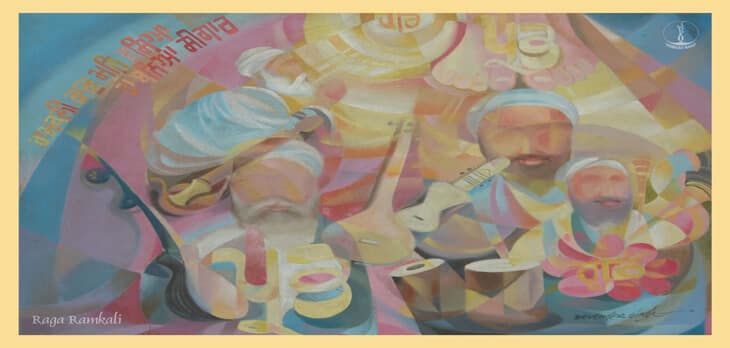 Raamakalee is a very old and famous raag. It has an important place in the morning raags. This raag is a raag of compassion.It first tranquilises then brings about the nectar of compassion. Yogis are fond of raag Raamakalee.
Raamukulee raam man vasiaa taa baniaa seegaar gur kai sabadh kamal bigasiaa taa soupiaa bhagat bhundaar By this Guru Maharaj has made the context of Raamakalee raag very clear. Siddha Gosht, Raamakalee Sad, Anand Sahib, these Banis are written in this raag. That God is the creator this conviction is brought about in Bani of Oankar which is on the tune of Dakhni. For the attainment of Bliss, spiritual religious and psychological teachings are given in Anand Sahib.
Aroh : Sa, Ga Ma Pa, Dha, Nee Saˆˆ
Avroh : Saˆˆ Nee Dha, Pa, Ma Pa Dha Nee Dha Pa, Ga Ma Re, Sa
Sur : Rishab and Dhaiwat are flat, Both Madhyam, both Nishad, the rest of the notes (swar) are sharp. Rishab is forbidden in ascending scale
Thaat : Bhairav
Jaati : Charav – Sampooran
Time : First quarter of the day.
Vadi : Pancham (Pa)
Samvadi : Rishab (Re)
Main sur : Dha Pa, Ma Pa Dha Nee Dha Pa, Ga Ma Re Sa
Mehalaa 3 | (GGS-940)            Kirtan Kaar: Dr. Gurnam Singh Patiala
Raamakalee raam man vasiaa taa baniaa seegaar |gur kai sabad kamal bigasiaa taa soupiaa bhagat bhanddaar |bharam gaeiaa taa jaagiaa chookaa agiaan andhaar |tis no roop at agalaa jis har naal piaar |sadaa ravai pir aapanaa sobhaavantee naar | manamukh seegaar n jaananee jaasan janam sabh haar |bin har bhagatee seegaar karehi nit janmehi hoe khuaar |saisaarai vich sobh n paaeinee agai j karae s jaanai karataar |naanak sachaa eaek hai duhu vich hai sansaar |changai mandai aap laaeian so karan j aap karaaeae karataar |2|
Raag Raamakalee Mehalaa 5 Ghar 1 (GGS-882-3)            Kirtan Kaar: Bibi Gita Kaur Pental
Ik Oankaar Satigur Prasaad | Kirapaa karahu deen kae daatae maeraa gun avagan n beechaarahu koee |maattee kaa kiaa dhopai suaamee maanas kee gat eaehee |1|maerae man satigur saev sukh hoee | jo eichhahu soee fal paavahu fir dookh n viaapai koee |1| rahaao |kaachae bhaaddae saaj nivaajae antar jot samaaee |jaisaa likhat likhiaa dhur karatai ham taisee kirat amaaee |2|man tan thaap keeaa sabh apanaa eaeho aavan jaanaa |jin deeaa so chit n aavai mohi andh lapattaanaa |3|jin keeaa soee prabh jaanai har kaa mehal apaaraa |bhagat karee har kae gun gaavaa naanak daas tumaaraa |4|1|