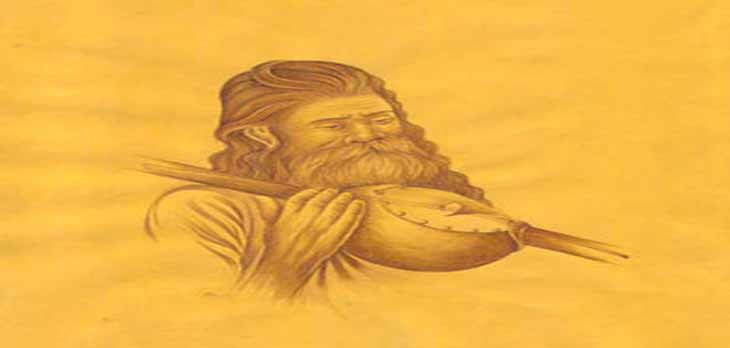 Raag Maali Gaura is one of the not very well known raags and falls in the category of uncommon raags and it is a difficult raag. There is no reference to this raag in the ancient and medieval Granths of Indian Music nor in the Raagmala, which is written at the end of Sri Guru Granth Sahib. There ia a belief that this raag has originated from the Muslims In Sri Guru Granth Sahib we find 6 shabads of Guru Ramdasji, 3 Shabads of Guru Arjan Devji and 2 Shabads of Bhagat Namdev written in this raag. The nature of raag Mali Gaura is to arouse happiness and to prepare one to fight against Kama Krodha etc. One will learn the knack of using everything given by God if we take the support of Naam and bow down before Naam every second.
Aroh : Sa Re, Sa, Ne Dhæa Ne Re Ga Ma Pa, Ma Dha Nee Dha Saˆˆ
Avroh : Saˆˆ Nee Dha Pa, Ma Nee Dha Ma Ga Re, Sa.
Sur : Rishab is flat, Madhym is teever, both Dhaiwat. Remaining notes are sharp.
Thaat : Marva
Jaati : Sampooran – Sampooran
Time : Fourth quarter of the day (Evening)
Vadi : Rishab (Re)
Samvadi : Pancham (Pa)
Main sur : Ma Ga Re, Sa, Dha Ne Sa Re, Ga Ma Pa, Nee Dha Pa, Ma Dha Ma Ga Re, Sa
Maalee Gourraa Mehalaa 5 | (GGS-986-7)             Kirtan Kaar: Bhai Prithipal Singh Kang
Aiso sahaaee har ko naam |saadhasangat bhaj pooran kaam |1| rahaao |booddat ko jaisae baerree milat |boojhat deepak milat tilat |jalat aganee milat neer |jaisae baarik mukhehi kheer |1|jaisae ran mehi sakhaa bhraat |jaisae bhookhae bhojan maat |jaisae kirakhehi baras maegh |jaisae paalan saran saegh |2|garurr mukh nehee sarap traas | sooaa pinjar nehee khaae bilaas |jaiso aadho hiradae maahi |jaiso daano chakee daraahi |3|bahut oupamaa thor kehee |har agam agam agaadh tuhee |ooch moocho bahu apaar |simarat naanak tarae saar |4|3|
Maalee Gourraa Mehalaa 5 | (GGS-986)            Kirtan Kaar: Bhai Niranjan Singh Jawaddi Taksal
Raam naam ko namasakaar |jaas japat hovat oudhaar |1| rahaao |jaa kai simaran mittehi dhand |jaa kai simaran chhoottehi bandh |jaa kai simaran moorakh chatur |jaa kai simaran kuleh oudhar |1|jaa kai simaran bho dhukh harai |jaa kai simaran apadhaa ttarai | jaa kai simaran muchat paap |jaa kai simaran nehee santaap |2|jaa kai simaran ridh bigaas |jaa kai simaran kavalaa daas |jaa kai simaran nidh nidhaan |jaa kai simaran tarae nidhaan |3|patit paavan naam haree |kott bhagat oudhaar karee |har daas daasaa deen saran |naanak maathaa sant charan |4|2|