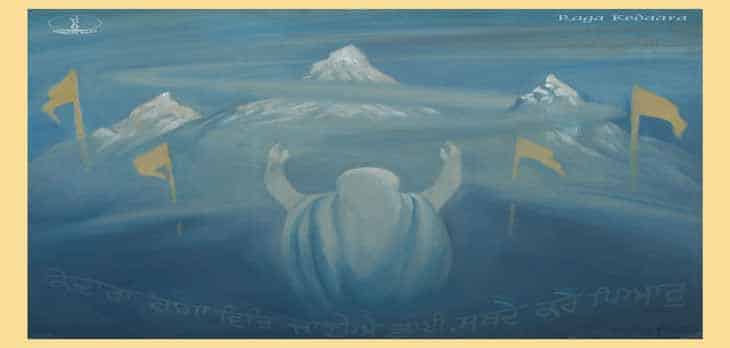 Raag Kedaaraa is a very ancient and famous raag of Indian music. In connection with this Raag there is a saying of Guru "kaedaaraa raagaa vich jaaneeai bhaaee sabadae karae piaar, satasangat sio milado rehai sachae dharae piaar"
From this, it is clear that this raag has an important place in Gurumat Sangeet. Kedaaraa raag continues to be an integral part of Indian music. This raag is not counted in the very difficult and complitcated raags but it is included in the category of very simple and easy raags.
The Kedaaraa tune has been taken from the fluttering of the flag And it is said that only such agreat warrior who has exper knowledge and rigorous yogic practice can sing the raag. Such a hero sings this after night sets in .
Aroh : Sa Ma, Ma Pa, Dha Pa, Nee Dha Saˆˆ
Avroh : Saˆˆ Nee Dha Pa, Ma Pa Dha Pa Ma, Re Sa
Sur : Both Madhyam and rest of the notes are sharp. Rishab and Gandhar in ascending scale and Gandhar in descending scale are forbidden notes.
Thaat : Kalyaan
Jaati : Aurav – Charav
Time : First quarter of the night
Vadi : Madhyam (Ma)
Samvadi : Sharaj (Sa)
Main sur : Sa, Ma, Ma Pa, Dha Pa Ma, Pa Ma, Re Sa
Kedaaraa Mehalaa 4 Ghar 1(GGS-1118)            Kirtan Kaar: Bhai Niranjan Singh Jawaddi Kalan
Ik Onkaar Satigur Parsaad | Maerae man raam naam nit gaaveeai rae | agam agochar n jaaee har lakhiaa gur pooraa milai lakhaaveeai rae | rahaao | jis aapae kirapaa karae maeraa suaamee tis jan ko har liv laaveeai rae | sabh ko bhagat karae har kaeree har bhaavai so thaae paaveeai rae |1| har har naam amolak har pehi har daevai taa naam dhiaaveeai rae | jis no naam daee maeraa suaamee tis laekhaa sabh chhaddaaveeai rae |2| har naam araadehi sae dhann jan keheeahi tin masatak bhaag dhur likh paaveeai rae | tin daekhae maeraa man bigasai jio sut mil maat gal laaveeai rae |3| ham baarik har pitaa prabh maerae mo ko daehu matee jit har paaveeai rae | jio bachhuraa daekh gaoo sukh maanai tio naanak har gal laaveeai rae |4|1|
Kaedaaraa Mehalaa 5 Ghar 4(GGS-1119)            Kirtan Kaar: Bibi Gurninder Kaur Delhi
Ik Oankaar Satigur Prasaad | Saranee aaeiou naath nidhaan | naam preet laagee man bheetar maagan ko har daan |1| rahaao | sukhadaaee pooran paramaesur kar kirapaa raakhahu maan | daehu preet saadhoo sang suaamee har gun rasan bakhaan |1| gopaal daeiaal gobind damodar niramal kathaa giaan | naanak ko har kai rang raagahu charan kamal sang dhiaan |2|1|3|