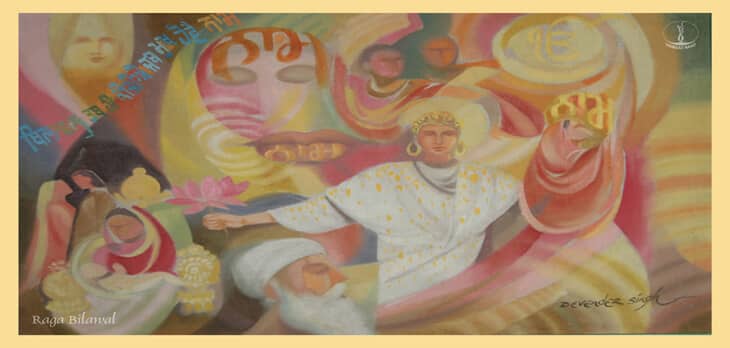 Bilaaval Raag is very famous and old raag. Almost all Granths have mentioned this raag. The bani uttered in this raag mostly descibes a unique happiness and bliss which one gets while on one's spiritual journey. But at the same time the happiness of Bilaaval is not attained if one in love with the other.Bilaaval adorns only those whose mouth utters the name of God.
Bilaaval tab hee keejeeai jab mukh hovai Naam. Raag naad sabad sohanae ja laagai sehaj dhiaan
Aroh : Sa, Re Ga, Ma Pa, Dha, Nee, Saˆˆ
Avroh : Saˆˆ Nee Dha, Pa, Ma Ga, Re Sa
Sur : All notes (swar) are sharp.
Thaat : Bilawal
Jaati : Sampooran – Sampooran
Time : Second quarter of the day
Vadi :Dhaiwat (Dha)
Samvadi : Gandhar (Ga)
Main sur : Ga Re, Ga Pa Dha Pa, Ma Ga, Ma Re Sa
Ik Onkaar Satigur Prasaad | Raag Bilaaval Mehalaa 4 Prrataal Ghar 13 | (GGS-800-1)
Kirtan Kaar: Bhai Nirmal Singh Khalsa
Bolahu bheeaa raam naam patit paavano |har sant bhagat taarano |har bharipurae rehiaa |jal thalae raam naam |nit gaaeeai har dookh bisaarano |1| rahaao |har keeaa hai safal janam hamaaraa |har japiaa har dookh bisaaranehaaraa |gur bhaettiaa hai mukat daataa |har keeee hamaaree safal jaataa |mil sangatee gun gaavano |1|man raam naam kar aasaa |bhaao doojaa binas binaasaa |vich aasaa hoe niraasee |so jan miliaa har paasee |koee raam naam gun gaavano |jan naanak tis pag laavano |2|1|7|4|6|7|17|
Bilaaval M ehalaa 9 | (GGS-930 -31)            Kirtan Kaar: Bhai Mahinder Singh Sagar
Har kae naam binaa dukh paavai |bhagat binaa sehasaa neh chookai gur eihu bhaed bataavai |1| rahaao |kehaa bhaeiou teerath brat keeeae raam saran nehee aavai |jog jag nihafal tih maano jo prabh jas bisaraavai |1|maan moh dono ko parehar gobind kae gun gaavai |kahu naanak eih bidh ko praanee jeevan mukat kehaavai |2|2|