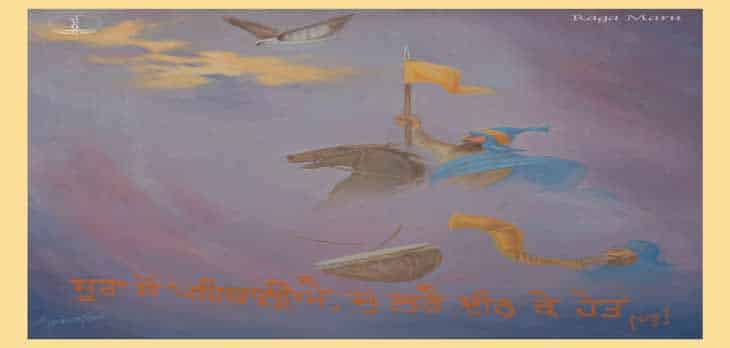 In a stable atma self dignity arises because only truth resides therein. The Truth is fearless, without enemity that is why svadharma gets perfected. Such a jivatma becomes courageous, carefree, fearless, this is the impact of Maru. On hearing Maru, 'sudh na rahe kayar ki,jab baajai dhun Maru'. Maru Raag is sung at the time of death of a person as there is the emotion of bairag in this raag. So, during time of wars and death this raag is sung. On the one side there is josh , on the other side there is Bairag in this raag. Expressing feelings of josh or excitement, Bhagat Kabirji says : sooraa so pehichaaneeai j lurai deen kae haet .Purujaa purujaa katt murai kubehoo n chhaaddai khaet.There are those spiritually enlightened brave ones, in whose praises drums are beaten in the celestial environnments and the effect of maya cannot be seen . While living, they have full awareness about death that is why, the seekers on the path of spirituality are ordered pehilaa murun kubool jeevun kee chhadd aas. Hohu subhunaa kee raenukaa to aao humaarai paas
In all situations the singing of Maru is successful only if the shabad resides within and the five enemies are conquered.Gur kai subadh araadheeai naam rung bairaag.Jeetae punch bairaaeeaa naanuk suful maaroo eihu raag .
Maru is a very famous and old raag. In Indian Music it is called by different names and is sung in different ways. Maru raag of Gurmat Sangeet has its unique form and influence. It is an old tradition of singing shabads in Maru at the time of performing final rites of an individual after death. With the notes of this raag an atmosphere of Bairag is created.
Aroh : Sa Ga Ma Pa, Dha Nee Saˆˆ
Avroh : Saˆˆ Nee Dha Pa, Ma Pa Dha Nee Dha Pa, Ma Ga Re Sa
Sur : Both Madhyam, both Dhaiwat and both Nishad. Rishab is forbidden in ascending scale, rest of the notes (swar) are sharp.
Thaat : Khmaahj
Jaati : Charav – Sampooran
Time : Third quarter(pher) of the day.
Vadi : Gandhar (Ga)
Samvadi : Nishad (Nee)
Main sur : Pa Pa Nee Dha Pa, Ma Pa Dha Nee Dha Pa, Pa Dha Pa Ga, Re, Ga Re Sa.
Maru Mehalaa 5 (GGS-1005)            Kirtan Kaar: Prof. Kartar Singh Ludhiana
Patit oudhaaran taaran bal bal balae bal jaaeeai |aisaa koee bhaettai sant jit har harae har dhiaaeeai |1|mo ko koe n jaanat keheeat daas tumaaraa |eaehaa outt aadaaraa |1| rahaao |sarab dhaaran pratipaaran eik bino deenaa |tumaree bidh tum hee jaanahu tum jal ham meenaa |2|pooran bisatheeran suaamee aahi aaeiou paachhai | sagalo bhoo manddal khanddal prabh tum hee aachhai |3|attal akhaeiou daevaa mohan alakh apaaraa |daan paavo santaa sang naanak raen daasaaraa |4|6|22|