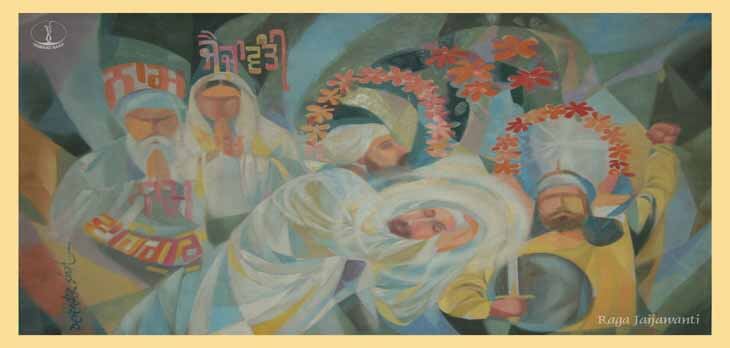 A soul in whose life dawn has come finds its path. Duality has ended and soul has merged with God and garland of victory will be put around the neck of that soul. Four shabads recited by Guru Tegh Bahadur Ji in Raag Jaijawanti have come at the end. Soul has been freed from 'Love for Body' for ever. By giving new appearance, new shape and new musical form, Guru Sahib has caused a big new expansion and made it a tool to achieve peace for the soul.
Aroh : Sa Re Ga, Ma Pa, Nee Saˆˆ
Avroh : Saˆˆ, Nee Dha Pa, Dha Ma, Re Ga, Re Sa
Sur : Both Gandhar, both Nishad. Rests of the notes (swar) are sharp.
Thaat : Khmaahj
Jaati : Charav – Sampooran
Time : Second quarter (pher) of the night.
Vadi : Rishab (Re)
Samvadi : Pancham (Pa)
Main sur : Re Ga Re Sa, Nee Dæha Pæa Re Sa Dæha Nee Re Sa
Jaijaavantee Mehalaa 9 || (GGS-1352)            Kirtan Kaar: Bhai Kawarpal Singh
Rae man koun gat hoe hai taeree |eih jag mehi raam naam so to nehee suniou kaan | bikhian sio at lubhaan mat naahin faeree |1| rahaao |maanas ko janam leen simaran neh nimakh keen |daaraa sukh bhaeiou deen pagahu paree baeree |1|naanak jan kehi pukaar supanai jio jag pasaar |simarat neh kio muraar maaeiaa jaa kee chaeree |2|3|
Raag Jaijaavantee Mehalaa 9 | (GGS-1352)            Kirtan Kaar: Dr Darshan Singh Narula
Ik oankaar sat naam karataa purakh nirabho niravair akaal moorat ajoonee saibhan gur prasaad | Raam simar raam simar eihai taerai kaaj hai |maaeiaa ko sang tiaag prabh joo kee saran laag |jagat sukh maan mithiaa jhoottho sabh saaj hai |1| rahaao |supanae jio dhan pachhaan kaahae par karat maan |baaroo kee bheet jaisae basudhaa ko raaj hai |1|naanak jan kehat baat binas jaihai taero gaat |chhin chhin kar gaeiou kaal taisae jaat aaj hai |2|1|