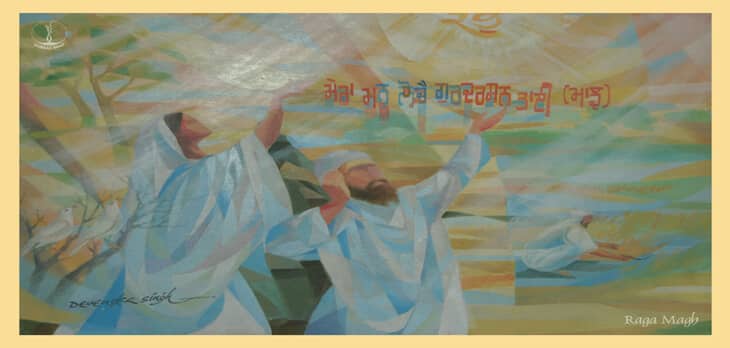 Raag Majh                If you are interested in Hindi Notation of Raag Manjh: Click here

In Punjab Majh Raag evolved from the folk music tune of Majha area of Punjab. There is no reference of this raga anywhere in Indian music. Raag Majh is a unique gift to Indian music by the Sikh Gurus. While passing through Majh Raag, on its spiritual journey the soul chants painfully, melodiously singing while suffering the pangs of separation and weeps "Maeraa man lochai gur darasan taaee, bilap karae chaatrik kee niaaee".
Guru Arjan Devji has written Baramaha also in this Raag. Since it is purely a raag of Punjab, the baani of Bhagats is not written in this raag.
Aroh : Sa Re, Ma Pa, Nee Saˆˆ
Avroh : Saˆˆ Nee Dha Pa, Dha Ma Ga Ma, Re Pa Ga Re, Ga Sa Re Ne Sa
Sur : Both Gandhar and both Nishad, the rest of the notes (swar) are sharp. Gandhar and Dhaiwat are not used in ascending scale.
Thaat : Khmaahj
Jaati : Aurav – Sampooran
Time : First quarter (pher) of night
Vadi : Rishab (Re)
Samvadi : Pancham (Pa)
Main sur : Pa, Dha Ma Ga Ma, Re Pa, Ma Ga Re, Ga Sa Re Ne Sa
Majh Mehalaa 5 (GGS-103)             Kirtan Kaar: Dr Gurnaam Singh Patiala
Anmrit baanee har har taeree |sun sn hovai param gat maeree |jalan bujhee seetal hoe manooaa satigur kaa darasan paaeae jeeo |1|sookh bhaeiaa dukh door paraanaa | sant rasan har naam vakhaanaa |jal thal neer bharae sar subhar birathaa koe n jaaeae jeeo |2|daeiaa dhaaree tin sirajan haarae |jeea jant sagalae pratipaarae |miharavaan kirapaal daeiaalaa sagalae tripat aghaaeae jeeo |3|van trin tribhavan keeton hariaa |karanehaar khin bheetar kariaa |guramukh naanak tisai araadhae man kee aas pujaaeae jeeo |4|23|30|
Majh Mehalaa 5 (GSS-103)             Kirtan Kaar: Prof. Harchand Singh
Toon maeraa pitaa toonhai maeraa maataa |toon maeraa bandhap toon maeraa bhraataa |toon maeraa raakhaa sabhanee thaaee taa bho kaehaa kaarraa jeeo |1| tumaree kirapaa tae tudh pachhaanaa |toon maeree outt toonhai maeraa maanaa | tujh bin doojaa avar n koee sabh taeraa khael akhaarraa jeeo |2|jeea jant sabh tudh oupaaeae |jit jit bhaanaa tit tit laaeae |sabh kichh keetaa taeraa hovai naahee kichh asaarraa jeeo |3|naam dhiaae mahaa sukh paaeiaa |har gun gaae maeraa man seetalaaeiaa |gur poorai vajee vaadhaaee naanak jitaa bikhaarraa jeeo |4|24|31|