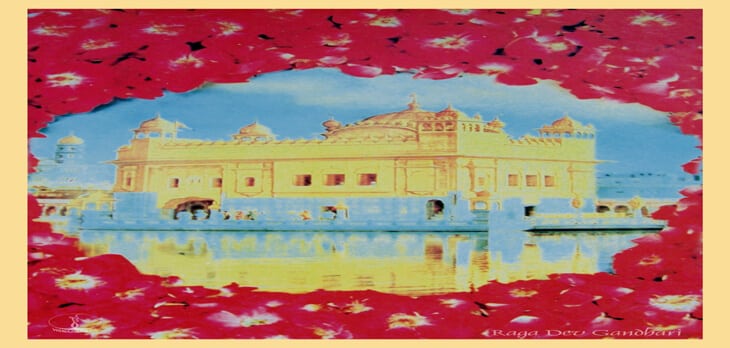 Raag Devgandhari If you are interested in Hindi Notation of Raag Devgandhari: Click here

In Guru Granth Sahib under the heading Devgandhari, Devgandhari and Devgandhar two raags are there. There is only one Shabad, Apunae har pehi binutee keheeai of Devgandhar. The remaining baani under this heading is in Devgandhari. The above two raags have different forms .Except in Gurmat Sangeet the form of Devgandhari is still not prevalent in Indian Music
While one is immersed in this raag one realises that happiness is in the feet of the Lord and in leaving false love.
Aroh : Sa Re Ma, Pa Dha, Saˆˆ
Avroh : Saˆˆ Nee Dha Pa, Ma Pa, Dha Nee Dha Pa, Ma Ga Re Sa
Sur : Both Dhaiwat and both Nishad. 'Ga' & 'Nee' are forbidden in Ascending scale, rest of the notes are sharp.
Thaat : Bilawal (Aasaavari ang)
Jaati : Aurav – Sampooran
Time : Second quarter of the day.
Vadi : Madhyam (Ma)
Samvadi : Sharaj (Sa)
Main sur : Dha, Nee Dha Pa, Ma Ga, Sa Re Ma, Ga Sa Re Ga Sa
Daevagandhaaree Mehalaa 9 | (GSS-536)             Kirtan Kaar: Bhai Gurdev Singh Batala
Jagat mai jhootee daekhee preet | apanae hee sukh sio sabh laagae kiaa daaraa kiaa meet |1| rahaao | maero maero sabhai kehat hai hit sio baadhiou cheet | ant kaal sangee neh kooo eih acharaj hai reet |1| man moorakh ajehoo neh samajhat sikh dai haariou neet | naanak bhoujal paar parai jo gaavai prabh kae geet |2|3|6|38|47|
Daevugundaaree Mehalaa 5 (GSS-532)
Kirtan Kaar: Bhai Dilbag Singh,Bhai Gulbag Singh Bodal
Taeraa jan raam rasaaein maataa | praem rasaa nidh jaa ko oupajee chhodd n katehoo jaataa |1| rahaao |baithat har har sovat har har har ras bhojan khaataa | athasath teerath majan keeno saadhoo dhooree naataa |1|safal janam har jan kaa oupajiaa jin keeno sout bidhaataa |sagal samooh lai oudharae naanak pooran braham pachhaataa |2|21|