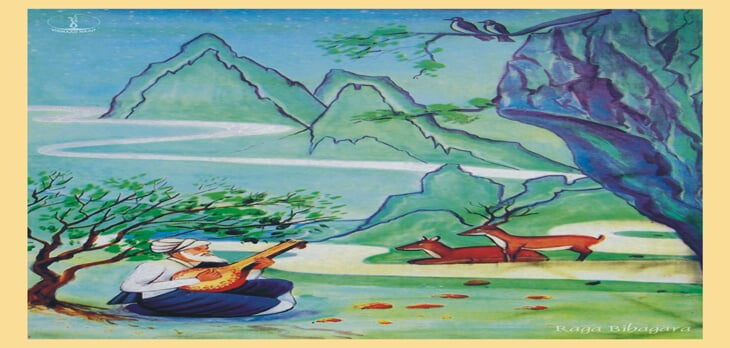 Raag Bihagara   If you are interested in Gurmukhi Notation of Raag Bihagara: Click here

Raag Bihagra is a very melodious and an effective night raag. Bihagra brings about pangs of separation. This separation can be removed by becoming the Mardana of Guru. Becoming Mardana is getting imbued with the Shabad.
By making some changes in the style of Raag Behag the form of this raag has been fixed. Due to the Bilaaval aspect in Punjabi Bihagara, this raag is more impressive
Aroh : Ne Sa Ga, Ma Pa Nee, Saˆˆ
Avroh : Saˆˆ Nee Dha Pa, Nee Dha Pa, Dha Ga Ma Ga, Re Sa
Sur : 'Re' and 'Dha' are forbidden in ascending scale, Both Nishad, rest of the notes (swar) are sharp.
Thaat : Bilawal
Jaati : Aurav – Sampooran
Time : Second quarter of the night
Vadi : Gandhar (Ga)
Samvadi : Nishad (Nee)
Main sur : Ga Ma Pa, Nee Dha Pa, Dha Ga Ma Ga, Re Sa
Raag Bihaagarraa Mehalaa 5 | (GSS-542)             Kirtan Kaar: Dr. Gita Kaur Pental
At preetam man mohanaa ghatt sohanaa praan adhaaraa raam |sundar sobhaa laal gopaal daeiaal kee apar apaaraa raam |gopaal daeiaal gobind laalan milahu kant nimaaneeaa |nain tarasan daras parasan neh need rain vihaaneeaa |giaan anjan naam binjan bheae sagal seegaaraa |naanak paeianpai sant janpai mael kant hamaaraa |1|
Ik Oankaar Satigur Prasaad | Raag Bihaagarraa Mehalaa 9 | (GSS-537)            Kirtan Kaar: Prof. Kartar Singh
Har kee gat nehi kooo jaanai |jogee jatee tapee pach haarae ar bahu log siaanae |1| rahaao |chhin mehi raao rank ko karee raao rank kar daarae |reetae bharae bharae sakhanaavai yeh taa ko bivehaarae |1|apanee maaeiaa aap pasaaree aapehi daekhanehaaraa |naanaa roop darae bahu rangee sabh tae rehai niaaraa |2|aganat paar alakh niranjan jih sabh jag bharamaaeiou | sagal bharam taj naanak praanee charan taahi chit laaeiou |3|1|2|