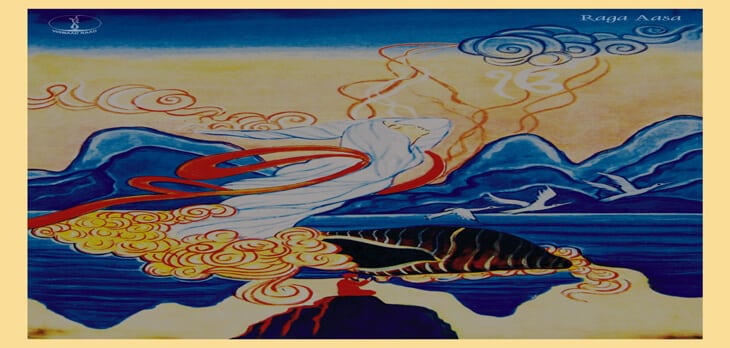 Raag Asa If you are interested in hindi Notation of Raag Asa: Click hereRaag Asa
In the Gurmat Sangeet style Aasa in a very important raag. The melodius notes of raag Asa are heard in every particle of the sacred land of Punjab. The golden rays of every dawn enter with the melodius tune of this raag and the redness of every dusk when it hides in the lap of nature, the melodious tunes of this raag sing the praises "Balhaaree kudarath vasiaa". There is no mention of this raag in ancient or medieval texts. Baba Farid and Guru Nanak Devji have the maximum contribution in giving this raag its Shastri form.
Aroh : Sa, Re Ma, Pa, Dha Saˆˆ
Avroh : Saˆˆ Nee Dha Pa, Ma, Ga Re Sa Re Ga Sa
Sur : Gandhar and Nishad are forbidden notes in ascending scale, rest of the notes (swar) are sharp.
Thaat : Bilawal
Jaati : Aurav – Sampooran
Time : sunrise and sunset (morning & evening)
Vadi : Madhym (Ma)
Samvadi : Sharaj (Sa)
Main sur : Re Ma, Pa, Dha Saˆˆ, Nee Dha Pa Ma, Ga Sa Re Ga Sa
Aasaa Mehalaa 5 Tipudae (GSS-406)             Kirtan Kaar: Dr. Navdita Singh Patiala
Ouhaa praem piree |1| rahaao |kanik maanik gaj moteean laalan neh naah nehee |1|raaj n bhaag n hukam n saadan |kichh kichh n chaahee |2|charanan saranan santan bandan | sukho sukh paahee |naanak tapat haree |milae praem piree |
Aasaa (GSS-478)            Kirtan Kaar: Bhai Niranjan Singh Jawaddi Kalan
Sut aparaadh karat hai jaetae |jananee cheet n raakhas taetae |1|raameeaa ho baarik taeraa |kaahae n khanddas avagan maeraa |1| rahaao |jae at krop karae kar dhaaeiaa | taa bhee cheet n raakhas maaeiaa |2|chint bhavan man pariou hamaaraa |naam binaa kaisae outaras paaraa |3|daehi bimal mat sadaa sareeraa |sehaj sehaj gun ravai kabeeraa |4|3|12|