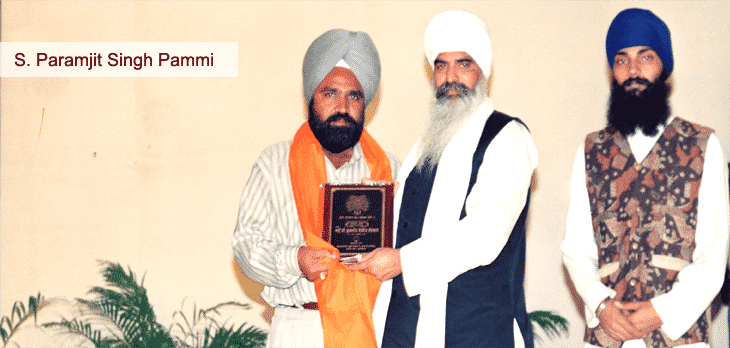 Principal Narinder Singh 'Soch' requires no formal introduction. He has been the Chief Editor of dailies, 'Qaumi Dard', 'Vartmaan' and the monthlies 'Gurmat Parkash' and 'Gur Sandesh'. He made new landmarks in the field of journalism. He has contributed a lot towards the promotion of religious literature by writing the biographies of the spiritual personalities. His book 'Sudhasar De Hans' is a milestone from the perspective of history, Gurmat ideology and Indian Philosophy. His writing is second to none in personality development.
Mr. 'Soch' had the privilege of enjoying the company of Baba Sucha Singh of Jawaddi Taksaal. Having studied the subtleties of Baba Sucha Singh's life, authored his biography entitled 'Maryada Purshotam Sant Baba Sucha Singh. Here are some excerpts from an interview with him on the topic: Sant Baba Sucha Singh's contribution to the field of Religion and Culture.
How did you come into contact with Sant Baba Sucha Singh? It was in 1995, I had been reading continuously about the tasks being performed by the Baba. According to my own idiom I thought that the musk has started spreading its fragrance. Definitely he is some great personality who had made his presence felt so soon. I too would have come into his notice, had I no vices. I don't know whether it was telepathy or what, the great man, read my mind and reached Khalsa College Amritsar along with Dr. Jatinder Pal Singh Jolly. During conversation I asked the Baba, "So how is meditation is going on?" He touched my bosom with the tip of his Khoonda (a bamboo-club with crooked grip) and said, "Like This." Dr. Jatinder Pal Sitting close by said, "Baba Ji, you tell us in a different way and telling him quite differently."
"you need different methods to teach a primary standard child and equally different for a graduate," the Baba replied. One thing more: Baba Sucha Singh lovingly used to address me as 'Baba Ji'. During this meeting I attempted to offer some money to the Baba. But I had my own doubts whether to do so or not as the elders had taught us that elders have to be asked for only. I was yet caught in a fix when the Baba himself took money from me saying, "The Sikhs have always been giving to the Sikhs. Their 'give and take' is an old tradition."
When did you visit the Jawaddi Taksaal for the first time? It was when Baba Sucha Singh had organized lectures on the topis of Miri Piri on the birth anniversary of the Sixth Guru Hargobind Sahib. I received a message that I should reach the Taksaal along with Dr. Maan Singh nirankari, we reached. During the lecture series, Baba ji noticed that I needed back-rest. He asked someone to bring pillows and placing two pillows in a row at the back he sat by me. You have written Baba sucha Singh's biography, would you say something in this regard?
"One day I met Baba Ji and asked, "You were always a wanderer. How did you think of building the Gurdwara?" Then Baba Ji said, "One day I was sitting in my room. Suddenly I started speaking spontaneously as if calling God, 'Khuda! Khud Aa, Khudai, Khud Aai, Khuda Khud Aa'. (Khuda means khud Aaa i.e. come your self. khudai (world) means khud Aai i.e. emerged itself). I kept repeating these words for some days. One day I was to go to Haryana on tour. Early in the morning that day, I remembered a verse from Gurbani 'Awwali Allah Nooru Upaya Qudrat Ke Sabh Bande, Ek Nooru Te Sabh Jag Upjea Kaun Bhale Ko Mande! Loga Bharam Na Bhoolahu Bhai. Khaalak Khalak , Khalak Meh Khaalak, Poori Raheo Sab Thai. (First of all God created Light and from that Light-Divine, emerged the whole world. If the source is the same then who is good or bad. So Shed all illusions.
Creator dwells in His Creation, rather Creator is creation. There is no difference between the two. Hence He pervades the entire existence.) 'If this is the reality, O God! then come yourself,' I prayed. Now a gentleman named Mokham Singh (brother of Bhai Harbans Singh Kar Sewa Wale) entered the room. He saw Baba Sucha Singh in Guru Granth Sahib's room. 'I have a demand', he said. This is what Baba Ji told me. It must be some Grihasti (the household), Baba Ji thought, he must have come for the fulfillment of some worldly desire. 'well speak it out', Baba Ji said.
'No, I don't have to speak it out only. I have to get it fulfilled,' Mohkam Singh said. Baba Ji thought he would ask for a heavy amount only, what else. So he said, "Accepted. every thing will be accepted."
'you don't know perhaps but I know everything about you. You have journeyed to the mountains, meditated in a cave, served in different Deras, visited Hemkunt Sahib, Hazoor Sahib. I know everything. The paths you have traveled on. still reverberate with the Shabad. The Shabad never dies. Living in the village you have collected alms in the streets and recited Barahmah in the Gurdwara Sahib. You left your home and wealth and now are sitting in others' houses. Make your own house,' said Mohkam Singh. Thus the Guru made Baba Sucha Singh build his house through one of his sikh. Then the gentleman said, "If you ever need money, don't go to anybody else. Just tell me." "Then did you go for collection?" I asked Baba Ji. "No, as there is growth of mushrooms in the month of Bhadon, money, in a way, rained. The collection was so huge that it became unmanageable to keep it. This is how Gurdwara Gur Gian Parkash came into existence. Gur Shabad Sangeet Academy was set up for the propagation of Gurmat music. Even 'Nij Thau' (personal place) was built for the upkeep of Guru Granth Sahib."
How did you rate Baba Ji's contribution to the sphere of Gurmat Sangeet? "During the 20th century two persons have done research. Oriented work on Guru Granth Sahib. First, Prof. Sahib Singh did his D. Litt. in Gurbani Vyakaran. Second, Sant Baba Sucha Singh got the forms of 31 Ragas of Gurbani determined and started a series of Adutti Gurmat Sangeet Sammelans.
Here I would like to add that Baba Ji infused such a fervour about Gurmat Sangeet that it created a mass-awareness. I dropped at Ludhiana bus-stand and hired a rickshaw for Jawaddi. When asked about the fare, the rickshaw-puller said, "Rickshaw belongs to them. You please sit and take meals from the langar after reaching there." The people offered the rooms of their houses for the stay of people visiting the sammelans so much that even the plot-owners offered their plots for make-shift tent accommodation. Everybody felt proud to contribute his mite towards the Gurmat Sangeet Sammelan. And now, when Baba Ji is not amongst us, we have landed in debt. what is this. It is beyond my ubderstanding, indeed! What is your view regarding the seminars organized by the Taksaal from time to time? "I asked Baba Ji about the progress of seminar on 'Deh' (human body)." "it could not bring out what I looked for." Then I talked Sabar Sahib on the seminar regarding the concept of Panj Pyaras. He said, "Tell me something in this respect." "Definitely I'll tell you, but you don't tell it further. The women ask for their inclusion in Panj Pyaras. I said where were you when the Panj Pyaras dedicated their heads to Guru Gobind Singh? Why none of the women stood up to offer her head?" Jawaddi Tasaal is the first organization which created a podium, a common platform that involved all – Punjabi University, Guru Nanak Dev University, Punjab University, Delhi University, Ragis, Dhadis, Katha-Vachak etc. Baba Ji used to say, "I've come to distribute love. I've nothing else to do, 'Sach kahon Sun Lehu Sabhei Jin Prem kio Tin hi Prabh Payo' (I tell you the truth. Listen, everybody He who loves, attains to the supreme.) Guru Nanak Dev said, 'Pantha Prem Na Janai, Bhooli Phirei Guar' (The people have forgotton love. they don't know what it is). 'Itu Marg Pair Dharijei Sir Deejei Kaanu Na Keejei' (He who treads the path of love should have no hesitation in laying down his life.) Tell me some reminiscence of your life relating to Baba Ji? "Someone spilt a glass of water in Baba Ji's room one day. The servants cleaned up the floor within no time. Exactly at that time, Prof. Surinder Singh Narula, the trend-setter novalist stepped in. He met me with such warmth and love as he always did when years earlier we used to meet. He had a very beautiful stick in his hand and I too had a simple stick with me.
Placing the beautiful stick before me he said, "This stick is a gift for you and you are not to refuse it. I was not going to accept it and he was not in a mood to hear 'no' from me. But Baba Sucha Singh said, "Don't refuse this gift being offered with so much love." I could refuse the friend but in no way disobey Baba Ji. within a year, I came to realize that this stick was so necessary for me. I needed it badly as a support. Since it had Baba Ji's command in the acceptance of this beautiful souvenir, it always reminded me of the great soul. Earlier he used to embrace me, now he also shakes hands with me after Gur Fateh."
What do you say on Baba Sucha Singh's contribution to religion and culture? "Baba Sucha Singh made a great contribution towards Sikhism by reviving Gurmat Sangeet. The coming generations of Sikh community will always remember Baba Ji with great reverence for this contribution. by launching a series of Adutti Gurmat Sangeet Sammelans, he founded the propagation and dissemination of Gurmat Sangeet. Through seminars, he initiated a tradition of promoting Gurmat Culture. Within a short span of time he did what premier institutions could not do in decades. Here I would like to add that Sant Baba Sucha Singh's efforts to revive Gurmat music have fructified. Today, everywhere Rag-Durbars are being organized in the specified Ragas. Various cassette companies are recording cassettes in the specified ragas. it is only due to the efforts of Sant Baba Sucha Singh, Shiromani Gurdwara Prabhandak Committee and students of Diploma in Gurmat Sangeet jointly organized a big Rag-Durbar at the Akal Takht Sahib. It is worth mention here that a kirtan Durbar is held in the specified ragas every year by Gurdwara Dookh Niwaran Sahib Ludihana, A special Gurmat Sangeet Sammelan is organized every year at Jaipur by Sant Baba Sukhdev Singh Mandir Muhar of Nanaksar sampardaye. Similarly Gurdwara Garna Sahib Bodal (Hoshiarpur), Bhai Mardana Gurmat Sangeet Academy Gurdwara Manji Sahib Ambala and Baba Sucha Singh Gurmat Sangeet Academy Taran Taran organize annual workshops and rag-Durbars.
Besides, Kirtan Durbars are organized in specified Ragas by Baba Harcharan Singh Khalsa Ramdaspur Wale in the memory of Baba Sucha Singh. In addition to it, Gurmat Sangeet Workshops were organized in 2004 at Taran Taran, Zira, Moga and Ludhiana. Thousands of students got abundant information regarding Gurmat Sangeet in these workshops.
Apart from the above, the cassette companies have recorded cassettes of different Ragis in the specified ragas in due recognition of Baba Sucha Singh's thinking. Here I want to tell you that Jawaddi Taksaal has offered to the listeners cassettes of 31 Shudh Ragas entitled Gaudi Rag Sulakhni, Shabad Hazare Patshahi Daswin, Asa Di Vaar sung by Bhai Balbir Singh. Besides T.series company as come out with the recordings of 31 Ragas in cassette-form while HMV has produced cassettes of specified Ragas sung by Dr. Gurnam Singh. Apart from these, Prof. Paramjot Singh Mullanpur, Bhai Dilbagh Singh gulbagh Singh, Prof. Alankar Singh and Principal Channan Singh Majboor too have offered their cassettes to the Gurmat music lovers.
Please say something about of Jawaddi Taksaal? Baba Sucha Singh was a saint who was a giver only while the people have a tendency to hoard. Baba Ji had started propagation of Gurmat Sangeet at a macro, not micro level. Now-a-days, the present chief of Jawaddi Taksaal Sant Gyani Amir Singh, Bhai Sohan Singh, Principal Sukhwant Singh and their associates are carrying forward the tasks initiated by Baba Ji. They built Deewan Hall shed and the roof of basement of Langar Hall was lintelled. They organized Adutti Gurmat Sangeet Sammelan on the death anniversaries of Baba Ji. Many books were published and a number of cassettes and CD's were produced for the sangat. Thus the caravan of Baba Sucha Singh's lovers is moving faster than time. I pay obeisance to this caravan as I did to Baba Ji.